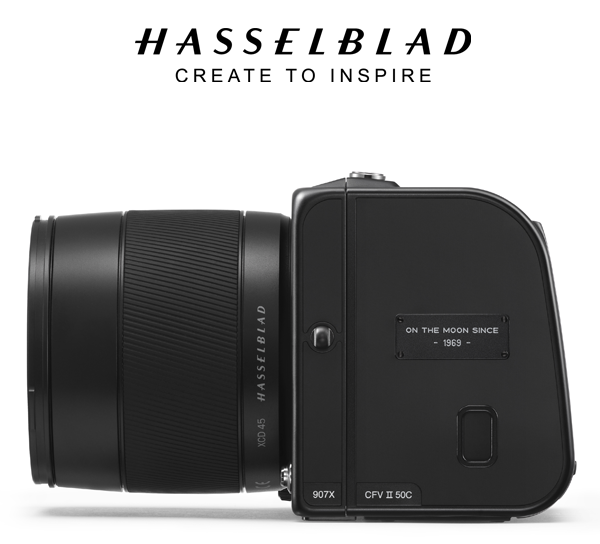 HASSELBLAD LAUNCHES THE 907X SPECIAL EDITION TO CELEBRATE 50 YEARS ON THE MOON
Commemorating the 50th anniversary of the historic Apollo 11 moon landing, Hasselblad proudly celebrates its role as the cameras chosen by NASA for space photography, and even more so, the cameras that documented the historical moment of the first humans on the Moon. In honour of this momentous occasion, Hasselblad launches the limited 907X Special Edition, which includes the 907X camera body and CFV II 50C digital back, both in matte black with commemorative "On the Moon Since 1969" anniversary text.
Hasselblad announce 5 new products
Introducing the X1D II 50C, XCD 35-75 zoom lens, Phocus Mobile 2, and revealing details of the upcoming CFV II 50C digital back and 907X camera body
HASSELBLAD EXPANDS REACH OF MEDIUM FORMAT IMAGING FOR EVEN MORE CREATIVE VERSATILITY
Following the revolutionary introduction of the world's first mirrorless medium format digital camera, the X1D-50c, Hasselblad introduces new additions to its product portfolio that bring the joy of medium format photography to image makers with the capabilities to support their creative endeavours. This includes the evolved X1D II 50C camera, the eagerly awaited XCD 3,5-4,5/35-75 Zoom Lens and Phocus Mobile 2. In addition, Hasselblad reveals the development details of the upcoming CFV II 50C digital back and 907X camera body. Hasselblad's newest offerings yet again expand the potential of medium format photography with modularity and flexibility, all while offering the brand's renowned, stunning image quality.